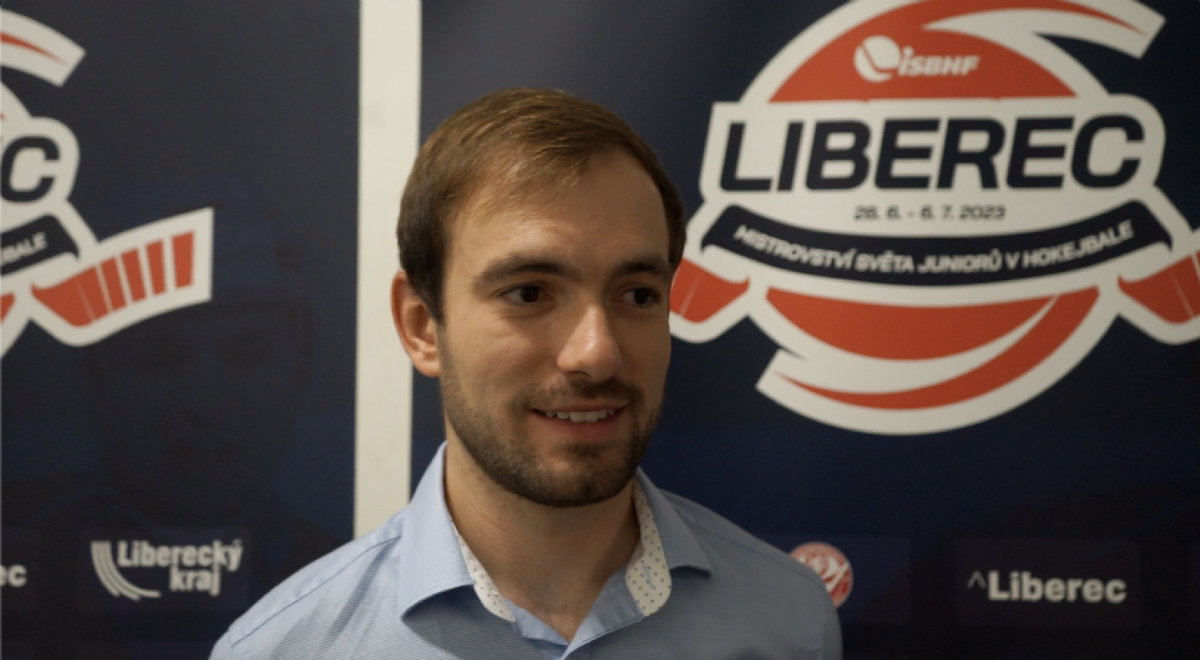 Interviews
11. 7. 2023 - David Schlegel
ISBHF Executive Director David Tor: We aim for development in Europe
David Tor started as a volunteer at the 2017 World Championship in Pardubice, and after six years from the tournament, he now holds the highest executive position in ISBHF. Where is the world ball hockey community heading? How will they increase the number of countries? And how has the COVID-19 pandemic affected the community? He answered all these questions in an exclusive interview at the venue of the Junior World Championship in Liberec.
David, how would you evaluate the progress of the Junior World Championships in Liberec so far?
I personally and the entire International Street and Ball Hockey Federation (ISBHF) are very satisfied with the overall organization of the championship. Essentially, all the events held in the Czech Republic, organized by the Czech-Moravian Ball Hockey Association in collaboration with us, have been very well-organized. What I like the most about this championship is the fact that we have finally returned to a standard format after the pandemic, and it's clear that all the teams were looking forward to it. There is a great family atmosphere here, and the players themselves are trying to establish new connections. That's what brings me the most joy.
In what state is the world of ball hockey now? Are the membership base and the number of countries where ball hockey is played increasing?
I would divide this question into two parts. The first part is about where we, as an international organization, are currently positioned, and the second part is about the state of ball hockey itself. As the ISBHF, we are now in a situation where we need to put the right people in the right positions to help develop ball hockey in individual countries. So far, we haven't been as successful in European countries, but we have been making significant efforts to improve this recently, and one result of our efforts is Hungary's participation in this championship. We will strive to accelerate this slow and gradual development as much as possible. As for ball hockey itself, the membership base varies depending on the country. Of course, our main goal is to have as many European countries as possible in the federation, but our membership base is currently growing the most in Canada and America.
How has ball hockey been affected by the COVID-19 pandemic? Has it had a significant negative impact on the sport?
I must say, yes. Ball hockey is essentially a fully amateur sport, and we don't have any professional leagues. When the pandemic broke out, all our competitions were either suspended or completely canceled. In the first year, the top events were only played in Slovakia, while ball hockey came to a halt in all other countries. It had a huge impact on junior competitions and children's participation. Their return to ball hockey after such a long break was somewhat challenging. It had an impact on us both at the national and international levels. Organizing our events in countries with various restrictions was very difficult, often impossible. There were travel limitations between countries, as we are an amateur sport and didn't receive the exemptions that professional athletes did, allowing them to compete in a bubble. We couldn't afford such arrangements, so it was only in 2022 and now in 2023 that we fully returned to the pre-pandemic period, but unfortunately, it slowed us down and had a negative impact.
How are you working on increasing the number of participating countries in the World Championships?
As I mentioned before, our main focus now is to expand the number of European countries. We are working on this with Hungary, and another significant country is Finland, which had great success at the World Ball Hockey Championships in Košice in 2019. Finland is already putting together a youth selection and presented their U16 team at the national championship. We would like to have these two countries increase the number of participating countries to eight in the Junior Championship. Then, with the help of our strong European federations, we will continue to progress. That is the key to success, and we are starting to work on it gradually.
How strong of a competition is three-on-three or four-on-four ball hockey, or even floorball for you?
I wouldn't say that three-on-three or four-on-four ball hockey is our competition. Our member federations have both three-on-three and four-on-four formats, but we have decided to predominantly play five-on-five at the international level. However, in the ISBHF, we focus on how to host these tournaments and how to organize them. These are often regional matters, and in some countries, one format may be stronger than the other. Therefore, it is necessary to plan properly before taking any steps. I don't see it as competition but rather as an opportunity for the ISBHF as a whole.
As for floorball, it is undoubtedly a similar sport, but it is predominantly European, although I perceive attempts at globalization, some of which have been successful. For us, it's more about connecting ball hockey with ice hockey. They are very similar sports, and in the past, we have had some joint activities with the IIHF. For example, the Canadian Ball Hockey Association closely collaborates with Hockey Canada, and a similar connection exists in the USA. Connecting ball hockey as a complement to ice hockey is, in my opinion, the way forward.
Switzerland is currently experiencing a significant floorball boom, as the World Floorball Championships were held there. How do you see the situation there? Do you feel that ball hockey is somewhat receding in Switzerland?
I wouldn't say it's receding, but rather in a state of stagnation. When we talked about the pandemic, Switzerland was the most affected country, as their competitions were suspended or canceled for two consecutive years. They are gradually recovering from it, but it requires personnel support to push the sport forward and bring it closer to the youth. Christoph Curchod, a member of the ISBHF board from Switzerland, commented that it is necessary to move ball hockey forward there. I believe that the World Championship to be held in the Swiss cities of Visp and Raron can be a catalyst for this.
How do your development programs work in other hockey countries such as Sweden, Germany, or Austria?
In Sweden, it is a bit more complicated because it is a very strong floorball country, and ball hockey has no tradition there. As for Austria and Germany, they are members of the International Street and Ball Hockey Federation, although not as active as we would like. We would like to welcome their junior teams to the World Championships, and we believe that the championship in Switzerland can be an interesting impulse for their development in these countries. Given the similarity of the languages, Switzerland is an important ally in the development of ball hockey in these nations.
How significant is women's ball hockey for you? Is your membership base growing? What development programs do you have, and what are you doing to increase the number of women and girls playing ball hockey?
Initiatives supporting women's ball hockey are just starting. We have five to six stable teams competing at the international level. Instead of focusing on the senior level, we primarily focus on what is happening here in Liberec, which includes youth categories. We are strongly considering introducing another junior category for girls at the World Championships, where we would like to attract girls who are starting with ball hockey at ages 12 to 14, giving them the opportunity to compare themselves on the international stage. This generation, for example in Canada and the United States, is very strong and can attract many more girls to ball hockey. Girls won't have to wait for many years to experience international events. Focusing on youth and ensuring that countries with established ball hockey structures can bring both junior and women's teams to championships is our number one priority.
One of the major topics of the congress held here in Liberec was development programs. Could you elaborate on what they entailed?
Regarding development programs, thanks to our strong sponsor, we have the equipment, for example. In addition to material assistance, we also provide mentoring to new countries. It is important whether we are dealing with countries that are starting from scratch, where we can help, for example, with youth programs in schools, provide equipment and certifications, and share our experiences in terms of coaches or referees. For more developed hockey countries, it is more about introducing and offering ball hockey as a complement. For example, when the Hungarians came to Liberec, ISBHF coaches George Gortsos and Elio Pascuzzo gave them a "demo" practice session, which is something that can attract those who are just getting familiar with ball hockey. I think it worked very well here.
How did the IBSHF congress go? What were the main issues addressed, and how many member federations attended?
All countries that had their teams here in Liberec attended the congress. We also had 15 to 20 additional members connected online, so the representation was quite significant. Everything discussed at the congress focused primarily on the future of our sport and how to deal with ball hockey in the short and long term. As I mentioned, the most important thing is to have the right people in the right positions so that our sport can grow globally and achieve development in European countries. This is a key issue addressed by the ISBHF. I believe we will see the results in the very near future, as we have already begun to see them here.
The Junior World Championships are currently held almost exclusively in ball hockey-developed countries. Have you ever considered placing a Senior or Junior World Championship in a country that is not yet a ball hockey powerhouse?
I may correct you a bit, the Junior World Championship was held in Sheffield, England in 2016, which was somewhat of a pilot. Of course, organizing a World Championship in a new country is a more demanding matter. If the country does not yet have financial and organizational stability, it is complicated for them to host such an event. In addition to the traditional ball hockey countries, the United Kingdom and Finland have the greatest interest in hosting a similar event, and I think one of the ISBHF tournaments will be played in a new country, including Great Britain. I believe fans can look forward to that, and when we talk to players participating in these championships, they are always excited about the mention of a new country.
We conducted an interview with the current ISBHF President, Elio Pascuzzo, who said that the most developed ball hockey countries should be the leaders and should help other countries that are still developing in ball hockey. What should this assistance look like?
Ball hockey-strong countries undoubtedly have the greatest expertise in terms of sports and organizational arrangements. They should share these experiences in sports development, including the development of national association structures, with others. This is what we would like to offer to new countries. Apart from that, there is also financial support, not only direct funding. Investment in the development programs of these countries can help them participate not only in the World Championships but also in various international regional tournaments, friendly matches, and so on. And that will offer a completely new dimension even for those highly developed countries. They are very interested in that, I believe.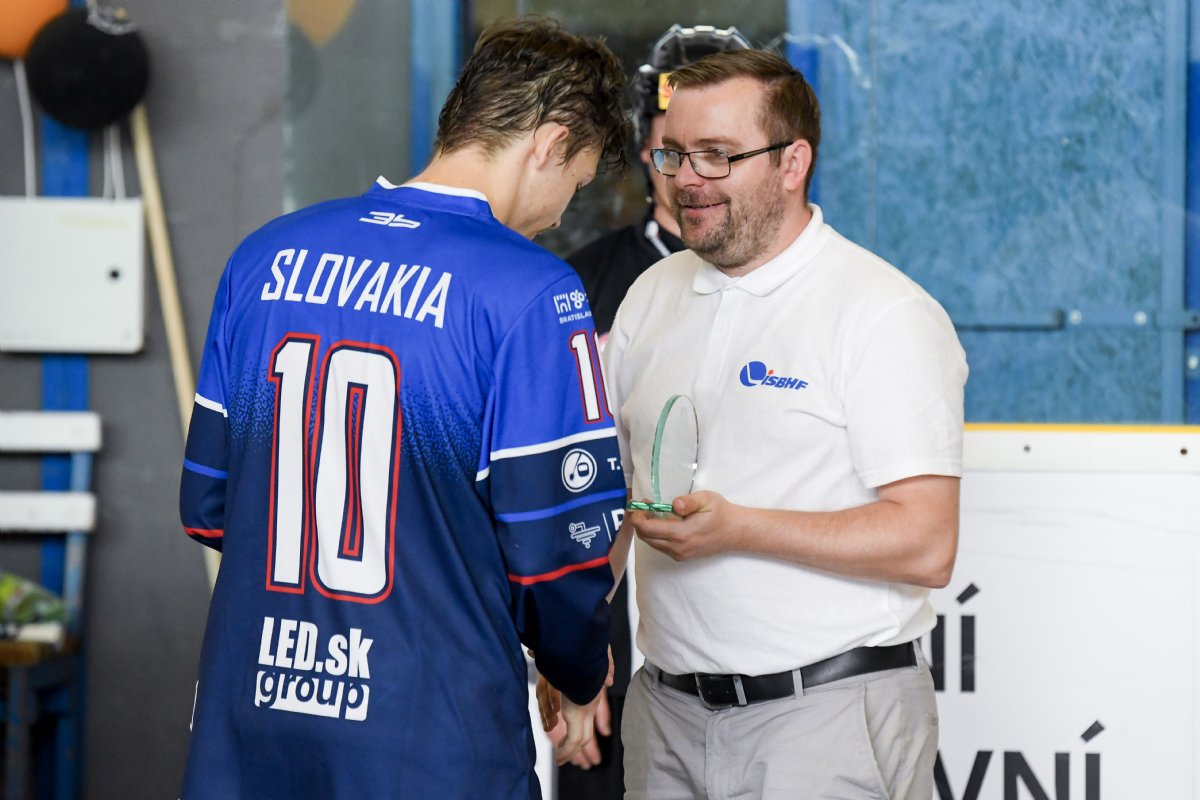 Interviews
11. 7. 2023 - Johan Čáp
ISBHF Technical Director Nemček: We actively discuss video referees and rule innovations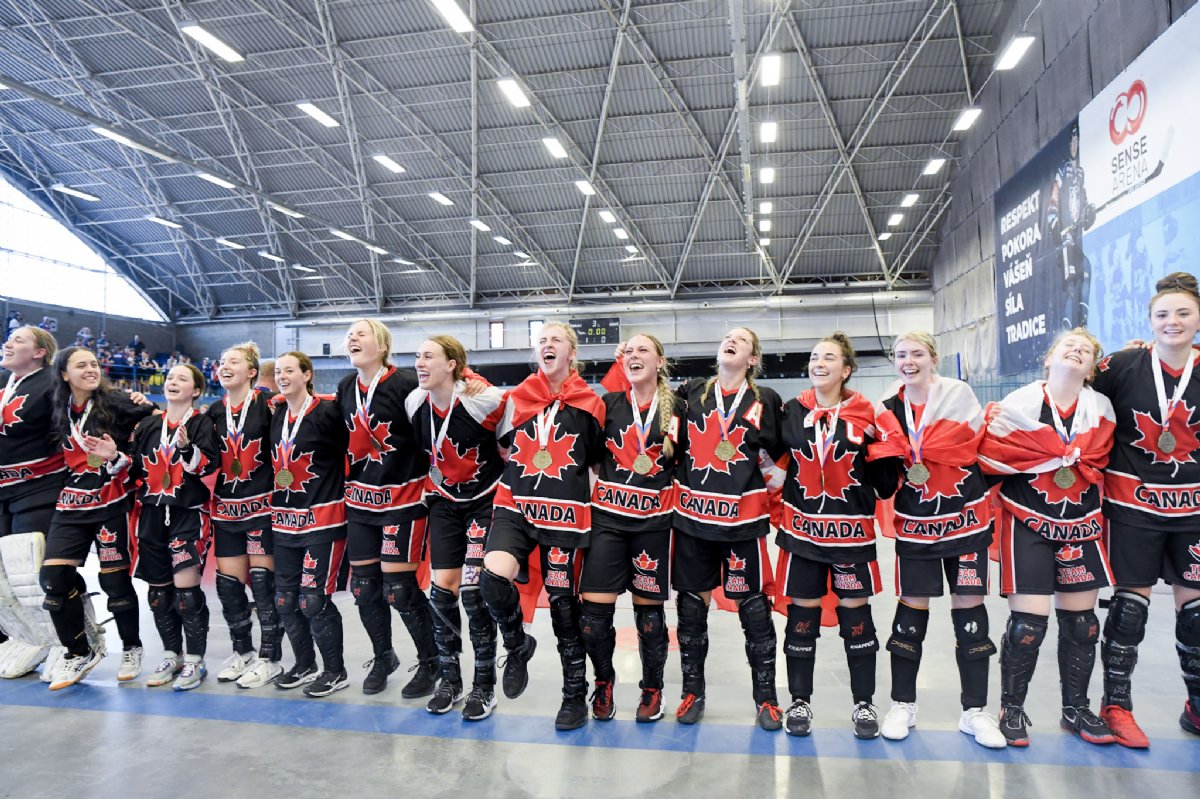 Games
6. 7. 2023 - Ondřej Gajdáček
Canada U21 celebrate gold!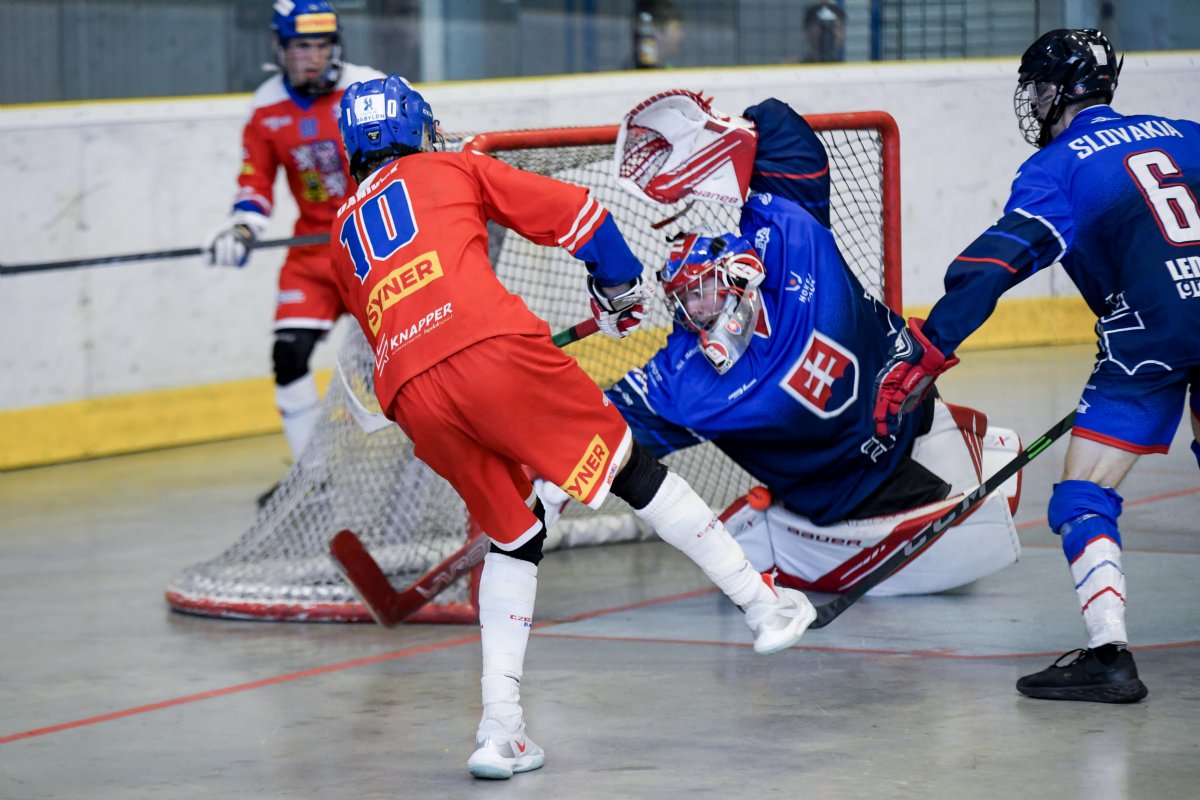 Games
6. 7. 2023 - Štěpán Navrátil
Third gold for Czechia! U18 edged Slovakia